Community Profile

empressreadings's Journal
This journal should be viewed with discretion.
Free Account
Created on 2009-05-05 23:11:48 (#299394), last updated 2009-07-22 (425 weeks ago)
2 comments received
10 Journal Entries, 27 Tags, 0 Memories, 1 Icon

About

Mini Bio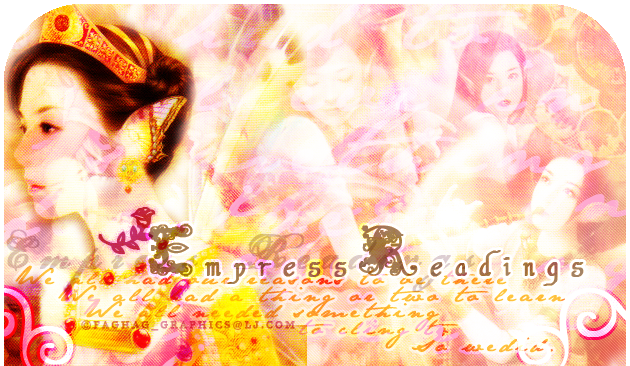 Rule of thumb
Over the years the mystic cards known as Tarot have become close to a novelty item in a lot of homes. Everyone wonders if their divinatory powers are... real. In turn, many seem disappointed because they don't comprehend the cards' message, which leads to a whole different story. Although, what some fail to understand is that the cards reveal what you, yourself, might not be aware of yet. The knowing of the issue at hand, has not been fully realized. Only when the person welcomes and accepts what is seen in the cards to heart, would the individual reap the benefits of a Tarot reading.

It's important to be open-minded and willing to accept whatever advice the cards may give you. Also, it's wise to heed such, but never assume their message is set in stone. Only you, the querent, is in control of your story... Your destiny. The cards are there to guide us in our time of need, only if we truly believe.
Information
Read intro post for more info.

Empress Arcana Readings aStore
Miscellaneous, et cetera...
Also , for those so inclined...


Believe me I hate doing this, but I was once told by someone I look up to very much: If I'm willing to reach out to someone and help them, they should show their gratitude in return as well. I'm not asking for much, I just want to know I'm appreciated for my efforts. If I've somehow helped a person out for the better, please don't hesitate to let me know. Most donations, if not all go to the Fag Hag Bunny Fund, actually. xD Those that like animals should really look forward to picture posts I totally intend to make. My rabbits would love to be whored around the community. :D

I do charge for my readings, not including promotional posts, but this is only for those that want to take their gratitude further. Please, don't assume I'm begging for money here. That's not my style; I just wanted to put that out there. :)

Thank You.

Have a need to quench your thirst for Tarot collecting? Please stop by the Tarot Garden, and peruse the wonderful decks for sale, today! ♥
Layout made by

velvetb0x and semi-tweaked by me, thank you!♥ And well, banners and such were made by me, duh.

I'll edit this all later. :x
Layout profile code thanks to ReversesCollide

Connect
art
,
astrology
,
clairvoyance
,
crystal healing
,
crystals
,
design
,
discussing
,
divination
,
gaming
,
helping others
,
insight
,
intuition
,
major arcana
, mary greer, mary k. greer,
metaphysics
,
minor arcana
,
numerology
, nyxavatar is mighty wise,
parapsychology
,
persona 3
,
persona 4
, ryoji is my homeboy,
shin megami tensei
,
tarot
, tarot readers, the aura, the fool's journey,
writing
Administrators

Members (4):

Subscribers (3):

Linking
To link to this user, copy this code:
On Dreamwidth:
Elsewhere: